Table of Contents:
Posts are what make your blog a blog — they're servings of content that are listed in reverse chronological order (newest to oldest) on your blog page.
To write a blog post go to WordPress Dashboard » Posts » Add New. You will see an editor area where you can write your first post.
On this page, you will see the WordPress posts editor. The most important parts of this page are:
Post Title – enter the title of your post in this field. On your theme it will be shown above your content.
Post Content – you can use the WordPress WYSIWYG editor to add the actual content of your post. Note that it has two tabs available in the tab menu on the right – Visual (use the editor to format your text) and Code (add your HTML code directly).

When you're done, click the Publish button to publish your post. Publishing brings post to your actual website.

That's it! You can press Preview button to check out the newly created blog post.
You can edit a post that has already been published. Click on the title of the post you would like to edit. This will open the post in the WordPress Editor, where you can add or remove content.
A published post will show an Update button where Publish previously was.
Click Update to push your changes live.
Pemalink #
When you want to direct users to your website, you'll use what's known as a permalink.
Aside from directing users to specific web pages, permalinks can also tell users what the page contains – this information is contained in the slug, which is at the end of the URL.
The slug often contains the name of the post the permalink is pointing to. In some cases, it may also include the relevant category or publication date.
Most permalink URLs look something like this:
https://www.mywebsite.com/blog/blog-post-1
Why Are Permalinks Important?
Permalinks play key roles in multiple aspects of your site. In particular, they can significantly affect its User Experience (UX), Search Engine Optimization (SEO), and branding.
Change the Post Permalink
To change the URL slug for an individual post navigate to Document tab in the right-hand sidebar, and then look for the Permalink section: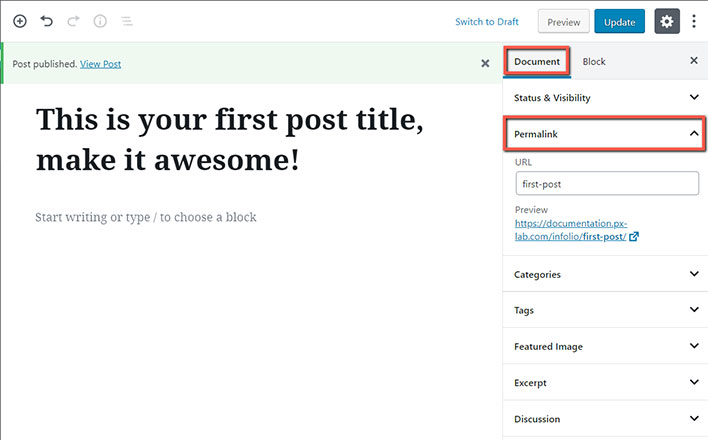 There you can type in your desired slug.
You can change your post permalink before or after publishing the content, but it's best not to alter it afterward unless absolutely necessary. This can make all uses of the old URL result in errors. You'll need to set up URL redirection to avoid that issue.
Adding Featured Image #
A featured image (also known as post thumbnail) is the main article image which represents the content. 
Featured image displayed on single post page, blog archive pages, homepage blog section, search page, related posts, featured post and in the some widget's related to posts.
To maintain good-quality photos in all these sections uploaded featured image should have at least following dimensions: 1920 x 990 .
You will find the option to add a featured image to your post in the right column under the Document settings.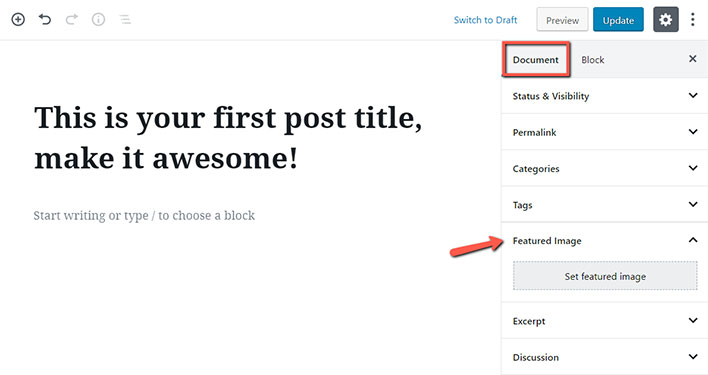 Simply click on the 'Set featured image' button and then select or upload the image you want to be used as the featured image.
Adding Excerpts (Article Summary) #
Excerpts are the summary of a blog post. Theme can automatically generate the excerpt from the first few lines of your post. However, this automatic excerpt may not always be meaningful or catchy. In that case, you may want to manually add an excerpt.
You can do so by adding it in the excerpt box located under document settings column on the right.