AdSense Plugin WP QUADS PRO is used to Quickly place multiple ads on your viral site by utilizing the Google AdSense program or any other kind of ad codes.
To add ads you'll need to:
Go to WP-admin ▸ WP QUADS PRO ▸ General ▸ Ads
Beside default ad locations, we added other custom locations to increase your opportunity to show more advertisement. In the screenshot below, you can see the list of our custom new locations.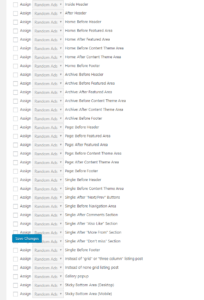 In the Boombox theme had been designed separate locations for:
For more detailed information, please visit AdSense Integration WP QUADS page.
Post Listings #
To show ad in posts listing of Homepage you will need to:
Go to Customizing ▸ Home ▸ Main and find Injects section

enter the numeric value for Inject Ad As Post field. Тhis action will force the system to show ad instead of the next post in the queue, and the next post will be shown after the ad.
The same actions can be done from edit mode of each page. That options can be find under Posts Listing tab of Boombox Post Advanced Fields metabox.