We have integrated CloudConvert converter service which will allow you to improve your website performance if you're using many GIf type files.
If you use this service, all uploaded GIF files will be converted to MP4, which will help you to optimize your website speed.
To manage GIF control options please go to Customizing ▸ Extras ▸ Gif Control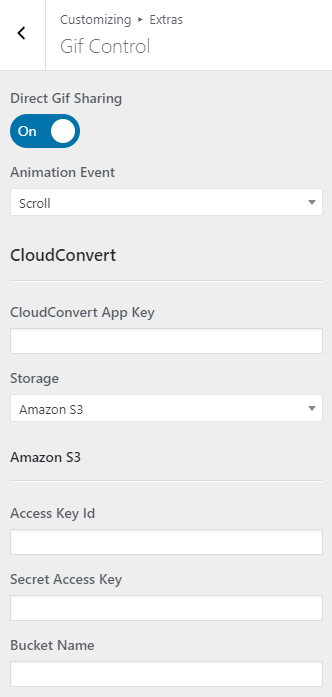 Direct Gif Sharing

ON/OFF – move trigger to ON if you want to share the GIF instead of the page



Animation Event

choose one of 3 available animation types: click / hover / scroll




CloudConvert App Key

create account on Cloudconvert.com and from dashboard copy Your personal API key to the text field below.




Storage

choose where you want to save your convert files: in your local WP database or in Amazon S3 Cloud Storage




Access Key Id

insert your access key for Amazon S3 Cloud Storage




Secret Access Key

insert your Secret Access Key for Amazon S3 Cloud Storage




Bucket Name

enter name of your created bucket on Amazon S3 Cloud Storage



For detailed information about how to get Amazon S3 Cloud Storage keys please visit this page.
Please note: after uploading file in media library you will find the same file in two different file formats: origin GIF and converted MP4. While MP4 file will be exist in your storage, it will be shown instead of origin GIF.
Please note: for Gif files created via using Zombify plugin, these settings will not work, you will have to setup them in Zombify settings.